What would Chanukah be without sufganiyot – those wonderful jam- filled donuts covered in frosted sugar? Maybe a little like Christmas without turkey.
Sufganiyot (plural) are round yeast-raised doughnuts without a hole that are filled with jelly or sometimes custard, and are deep-fried, and topped with powdered sugar.  They are a customary food on the Biblical festival of Chanukah.
These are the ones I made this time last year (certainly NOT low carb). At the time, I was also much heavier, had high cholesterol, high blood sugar and had way too high blood pressure.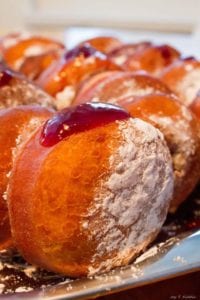 At 40 gm of carbohydrate each, regular sufganiyot were simply not an option for me, so I decided to try my hand at inventing a low-carb  version.
Actually, they came out quite good!
While they lacked the chewy texture that only a yeast-raised gluten-based pastry can achieve, at 2 gms of carbohydrate per mini sufganiyah (singular), they were a wonderful way to welcome in the festival.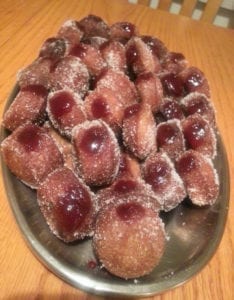 If you're celebrating Chanukah, happy holiday!
Ingredients
(This recipe makes 24 mini sufganiyot)
1/2 cup coconut flour
3 tbsp Truvia sweetener
1/8 tsp salt
1/2 tsp baking soda
1/8 tsp konjac powder
2 tbsp coconut oil , melted and cooled
4 large eggs, beaten
1/4 cup coconut milk (undiluted)
1 tsp real vanilla extract
coconut oil (or other oil) for frying
powdered Xyla sweetener, for coating
E.D. Smith Fieldberry Triple fruit jam
Heat oven to 350° F degrees.
Spray mini muffin pan with spray coating.
In a mixing bowl, stir together coconut flour, Truvia sweetener, salt, and baking soda.
In separate bowl stir together the eggs, almond milk, cooled coconut oil and vanilla extract.
Sprinkle the konjac powder over the egg mixture and stir to dissolve.
Add the egg mixture to the coconut flour mixture and stir till batter is smooth and thick.
Add 1 ½-2 tsp. batter to each muffin well.
Bake for 8 minutes.
Remove from oven, allow to cool slightly then heat oil for frying.
Frying instructions:
In small skillet heat about ¼ inch of oil, and heat until hot, but well below the smoke point.
Gently lift each baked dough round out of the muffin pan and place them into the hot oil, about 5 at a time. Fry until golden.
Gently flip each one over with a tongs and fry until uniformly golden.
Remove each fried ball with tongs and place on a tray lined with paper lunch bags, to absorb oil.
While still hot, place 5 at a time in a paper lunch bag with Xyla powder and shake. Remove to tray.
Fill a squeeze bottle with low sugar jam (without pectin). Insert into the middle of each fried donut and squeeze until a little oozes out (~1/2 tsp in each).
Enjoy!