This recipe is posted as a courtesy to those following a variety of low-carb and ketogenic diets (not necessarily Meal Plans designed by me). This recipe may or may not be appropriate for you.
It's the day after Canadian Thanksgiving and many people are wondering what to do with leftover turkey.  Well, here's an almost no-carb idea for a delicious LCHF Lasagne! It can also be made with sliced cooked BBQ chicken breast, as well.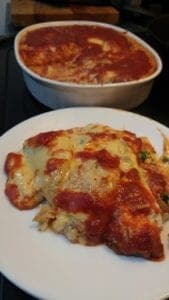 INSTRUCTIONS
Grease an 8″ x 10″ ceramic or glass baking dish liberally with butter or a high quality fat of your choice.
In a bowl, place 500 ml (2 cups) plain tomato sauce and season with salt, freshly ground black pepper, fresh squeezed garlic, rubbed oregano and extra virgin olive oil and set aside.
In another bowl, beat 3 eggs and add enough whipping cream to bring the volume up to 500 ml (2 cups).  Season with salt and freshly ground black pepper and add 100 gm (3 oz) grated Parmesan (or Asiago) cheese. Grate a bit of fresh nutmeg into the mixture, and set aside.
In the microwave, cook 2 pkg. of chopped, frozen spinach until defrosted, but not cooked.  Place in a sieve and press out water with the back of a large spoon.  With clean hands or a cheesecloth (if you prefer), squeeze out the excess water and leave in sieve while preparing the rest of the ingredients.  In a small bowl, beat 3 eggs and season with salt and freshly ground black pepper to taste and then add the well-drained spinach.  Add a touch of whipping cream to increase volume / adjust texture, if desired.
Slice the turkey or chicken breast to 3 mm slices (not to thin as it won't have the correct texture when baked).
Now you are ready to assemble the lasagne, but while you are doing that, preheat the oven to 450° F.
In the bottom of the greased baking dish, layer 1/2 the tomato sauce mixture.  Add one layer of sliced turkey (or chicken) – about 1/3 of the total quantity, being sure to leave no gaps between pieces.  Spread the sliced poultry with a layer of the spinach mixture and top that with 1/2 the cream mixture. Add the second layer of poultry and on top of that, spread the rest of the spinach mixture and top that with the remainder of the cream mixture.  Finish with the remainder of the sliced poultry and top with the rest of the seasoned tomato sauce and cover the top well with shredded Parmesan cheese, or a mixture of Parmesan or Asiago cheese mixed with shredded mozzarella.
Bake at 450° F until bubbly and hot and slightly browned on top.
Enjoy!
---
If you would like to read well-researched, credible "Science Made Simple"  articles on the use of a low carb or ketogenic diet for weight loss, as well as to significantly improve and even reverse the symptoms of Type 2 Diabetes, high cholesterol and other metabolic-related symptoms, please  click here.
---
you can follow me at:
 https://twitter.com/lchfRD
  https://www.facebook.com/lchfRD/