This recipe is posted as a courtesy to those following a variety of low-carb and ketogenic diets (not necessarily Meal Plans designed by me). This recipe may or may not be appropriate for you.
Falafel are the iconic 'street food' of Israel and elsewhere in the Middle East and are often eaten standing in front of the little shops that make them or sitting at picnic tables outside. Israeli Arabs and Jews often mingle at these little stands, enjoying their delectable, quick meal together. In this post, I'll give you everything you need to know how to make delicious, authentic-tasting low carb falafel.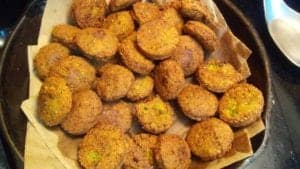 For those unfamiliar with falafel, they are slightly "cone-shaped" balls of delicately spiced, ground chickpeas and/or fava beans that fried until their exterior is crispy, yet their interior remains moist, yet cooked.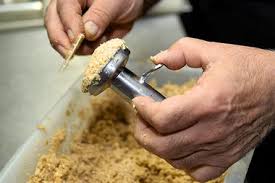 They are formed using a special falafel press, available in Middle Eastern stores or online, but a mini small ice-cream scoop could substitute, in a pinch.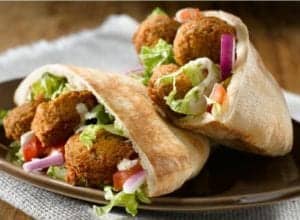 Usually, falafel are served in a split pita with pickles (cucumber and beet marinated turnip), tahina sauce, cut fresh vegetables and sometimes a drizzle of an aromatic hot sauce called 'harissa'. In my version, large washed and dried leaves from green leaf lettuce substitute for the pita and the mixture itself has the addition of ground, firm tofu to make it much lower carb! Since tofu is made from soya beans, its taste is indistinguishable in the aromatic mixture of spiced chickpeas and fava beans.
Another advantage to my recipe is that regular falafel require the addition of baking powder to make the texture light and soft inside, but this often leaves a slightly bitter aftertaste to the falafel.  In these low-carb falafel, the ground tofu makes the addition of baking powder totally necessary. The texture is just perfect!
At only 2.5 gm net carbs per piece  – and only 14 gm for the 4 falafel "sandwiches" below plus the carbs from the vegetables eaten, what's not to love about these low carb high healthy fat falafel?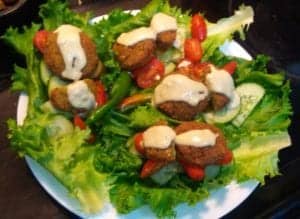 Below is the recipe for this delectable treat!
---
Joy's Low Carb Falafel Recipe
1 cup dried chickpeas, soaked overnight
1 cup of dried fava beans, soaked overnight
1/2 large onion, roughly chopped (about 1 cup)
4 tablespoons finely chopped fresh parsley
4 tablespoons finely chopped fresh cilantro (coriander leaves)
350 gm extra firm tofu
1.5 teaspoon salt
1/2-1 teaspoon dried hot Aleppo red pepper
4 cloves of garlic, crushed
1 teaspoon cumin, ground
2 tbsp sesame seeds
4-6 tablespoons chickpea flour
---
Falafel Garnish
leaf lettuce leaves, whole
diced tomato
sliced cucumber
sliced 1/2 sour dill pickles
large sticks of beet-pickled turnip (available at a Middle Eastern store, and easy to make homemade!)
chopped parsley
chopped green onion or milder round onion
---
Tahina Sauce
1/2 cup tahina sesame paste
1/2 cup warm water
1 clove garlic, crushed finely
juice of 1/4 lemon
1 tsp salt
1/4 cup extra virgin olive oil
---
Falafel Preparation
NOTES:
(1) This recipe works best when the mixture is made 1 day ahead and left to sit for a day in the fridge, covered.  This way, the falafel don't fall apart when frying!
(2) I use a meat grinder attachment for a Kitchen-Aid stand mixture to grind mine, but a food-processor could work too provided the mixture is ground in small batches and remains course in texture.
---
Put the chickpeas and fava beans in a large bowl and add enough cold water to cover them by at least 2 inches. Let soak overnight.
When ready to prepare mixture the next day (a day or two before planning to make falafel), drain the soaked beans and rinse well with cold water.
Put the drained, rinsed, uncooked chickpeas and fava beans though the meat grinder, being sure to use the smaller-holed press.
Then, put through the extra firm tofu, onion, parsley, cilantro and garlic.


---

If using a food-processor, process until coarsely textured, but not pureed!

---

In the bowl that has received the ground mixture, mix in the salt, hot pepper, garlic, cumin and sesame seeds and sprinkle with 4 – 6 tablespoons of chickpea flour
Cover bowl and refrigerate, covered, until the next day.
When ready to cook, form the chickpea mixture using a falafel press or by hand into balls about the size of walnuts. Form one side into a slight cone-shape (gives more surface area when frying!).
Heat 2 inches of coconut oil to 375° F degrees in a deep, heavy pot or wok and fry 1 ball to test. Once sure the oil is hot enough (not too hot, either!) fry 5 falafel at once for a few minutes on each side, or until golden brown.
Drain on a layer of kraft paper lunch bags.
Once all the falafel are cooked, assemble as desired, with vegetable of choice at the bottom, falafel on top and drizzle with tahina sauce, and harissa thinned with olive oil (if using).
Enjoy!
---
If you would like to read well-researched, credible "Science Made Simple"  articles on the use of a low carb or ketogenic diet for weight loss, as well as to significantly improve and even reverse the symptoms of Type 2 Diabetes, high cholesterol and other metabolic-related symptoms, please  click here.
You can follow me at:
 https://twitter.com/lchfRD
  https://www.facebook.com/lchfRD/