This recipe is posted as a courtesy to those following a variety of low-carb and ketogenic diets (not necessarily Meal Plans designed by me). This recipe may or may not be appropriate for you.
These delectable mini donuts are made with the finest ingredients; real creamery butter, fresh cream and eggs and the seeds of real vanilla beans. They are light, crispy and have that cake-like texture you want in a treat and are both low carb and gluten free because instead of flour, they contain whey protein and ground almond flour.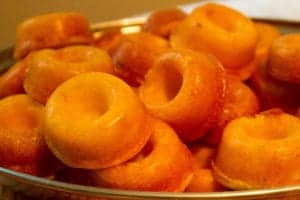 They can be baked to golden perfection, because the butter and full-fat cream result in a lovely crispy texture…
…or for those wanting a deep-fried treat, they can be baked for slightly less time and then deep-fried.
Served with a rich homemade eggnog sauce, they are a wonderful treat for the holidays!
Happy Holidays!
Low Carb Mini Donuts
(makes 32 mini donuts)
1/2 cup of whey protein, unsweetened
2 Tbsp almond flour
2 tsp baking powder, sifted
1/2 tsp Himalayan sea salt
2 Tbsp Truvia© brand or Xyla© (erythritol) sweetener
interior of 1 vodka-soaked vanilla bean (or 1 tsp real vanilla extract)
8 Tbsp heavy cream
4 Tbsp unsalted butter, melted and cooled
1 egg
whisk dry ingredients together in a medium bowl
beat egg, add cooled melted butter and cream, mix well
preheat oven to 350º F
spray two trays of mini donut pans (12 each) with coconut oil spray (or use Pam©)
When oven is hot, fill each well slightly less than 1/2 full with batter
Bake for 8 minutes if planning to deep fry afterwards, or 10 minutes if eating baked
Enjoy!
Eggnog Sauce
Ingredients
6 lg. egg yolks
1/2 cup heavy cream
1/4 cup Truvia© brand or Xyla© (erythritol) sweetener
1/4 cut unsalted butter, melted and cooled
1 Tbsp real rum (or rum extract, if liked)
1/4 nutmeg, grated
set up a double boiler over a medium heat
whisk egg yolks, heavy cream and sweetener into a small bowl.
slowly whisk in cooled, melted butter (be sure butter is cooled or eggs will scramble!)
add mixture to top of double boiler and whisk constantly until mixture thickens and instant-read thermometer reaches 140º F for 3 minutes (makes it safe).  Mixture should be thick enough to coat the back of a spoon.
add real rum or rum extract and grate in the fresh nutmeg
remove mixture from water and let cool. Serve warm or cooled.
---
If you would like to read well-researched, credible "Science Made Simple"  articles on the use of a low carb or ketogenic diet for weight loss, as well as to significantly improve and even reverse the symptoms of Type 2 Diabetes, high cholesterol and other metabolic-related symptoms, please  click here.
You can follow me at:
 https://twitter.com/lchfRD
  https://www.facebook.com/lchfRD/