This recipe is posted as a courtesy to those following a variety of low-carb and ketogenic diets (not necessarily Meal Plans designed by me). This recipe may or may not be appropriate for you.
Most people who follow a low carb or ketogenic (keto) lifestyle find themselves in those situations where they need a quick 'something' that functions as a meal, and while grabbing one of those commercially prepared packages is tempting, quick and easy protein bars created in minutes at home are so much better!
These Low Carb High Fat (Keto) Protein Bars were created with one of my young adult sons in mind, as he has already achieved his ideal weight and waist circumference eating a low carb, ketogenic diet, and sometimes hasn't got time for lunch.  His job is very physically demanding, so having an adequate source of protein and fat, with minimal carbohydrates is essential. They are also super easy to make, that even someone who doesn't bake can make these as there is no baking involved!
I designed these yesterday afternoon and after dinner, at my son's urging, we tried one (actually I tasted a piece of one and he ate the rest of mine and his, even though we had just finished a delicious dinner of BBQ'd fish and salad).  They were that good! 
What is especially lovely about these bars is they aren't too sweet with no stevia aftertaste!
Nutritional Information
These bars pack a nutrition punch and don't cost the exorbitant amount commercially available ones do (often costing $5 – $6 each).
Just one of these Low Carb (Keto) Protein Bars is an excellent source of protein (25.6 g protein – including 2 g of the essential amino acid  leucine which is important in preserving and building muscle mass), is an excellent source of fiber (9 g), and is high in iron (3 mg) and calcium (212 mg). They also have 2.7 g of Omega 3 fatty acids each.
The recipe along with some photos, is below;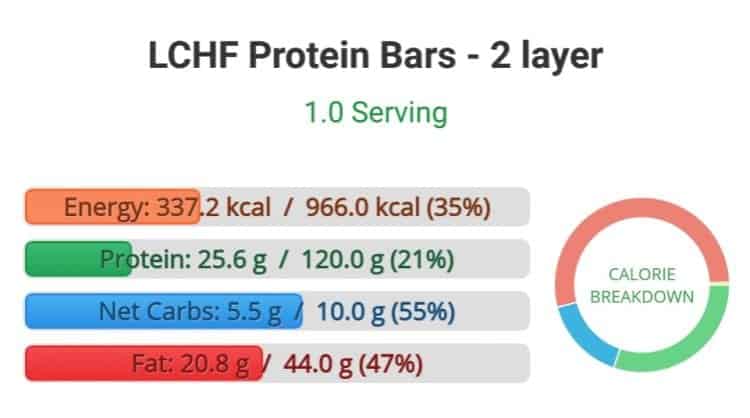 Low carb high fat (keto) 2 layer protein bars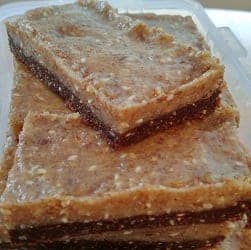 INGREDIENTS
BOTTOM LAYER
1/2 cup flax meal, ground
2 Tbsp coconut flour
2 Tbsp white sesame seeds, whole
10 Tbsp whey isolate protein powder, unsweetened
3 Tbsp 100% cocoa powder, sifted
 1 tsp Swerve® sweetener
1/4 tsp sea salt, ground
 1/2 cup peanut butter, unsweetened
2 Tbsp coconut oil, melted
1 tsp real vanilla extract
1/2 cup filtered water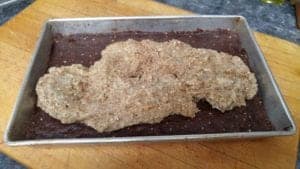 TOP LAYER
1/2 cup flax meal, ground
2 Tbsp coconut flour
2 Tbsp white sesame seeds, whole
13 Tbsp whey isolate protein powder, unsweetened
1 tsp Swerve® sweetener
1/4 tsp sea salt, ground
 1/2 cup tahini (sesame seed butter)
2 Tbsp coconut oil, melted
1 tsp real vanilla extract (or the seeds from inside a vanilla bean)
1/2 cup filtered water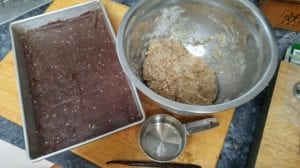 DIRECTIONS
Mix all dry ingredients for the bottom layer together.
Melt the coconut oil over a low heat, until just barely melted.
Put the peanut butter in a deep bowl and slowly stir in the melted coconut oil. Gradually stir in the water, stirring very well until completely blended and smooth, then add the vanilla extract.
Pour the peanut butter, coconut oil and water mixture into the dry ingredients and mix well with a large spoon, until it forms a dough. Gather the ball together with your hands, and knead as you would for a bread dough, to make sure all the dry ingredients are uniformly moist.
Grease a 7 ½ x 11-inch baking pan and gently press the dough into pan. You can wet your hands with a little bit of water to make the process easier. Take a small, empty glass jar (or drinking glass) and use it like a rolling pin, to make the bottom layer (the chocolate one) flat.
Repeat the same procedure to make the top layer, except substitute tahini (sesame butter) for the peanut butter, omit the cocoa powder and increase the whey isolate powder by 3 Tbsp. (13 Tbsp instead of 10).
Gently place the top layer mixture over the pressed bottom layer, then use hands that are dampened with a bit of water, to press the top layer flat. You can use the glass jar or glass drinking glass as a rolling pin, to make sure the top is uniformly flat.
Cover well with a plastic bag and chill in the refrigerator for at least 6 hours, or overnight.
When ready to serve, cut down the middle lengthwise and then across into 6 even pieces. Makes 12 bars.
Enjoy!
If you have questions about the local or long distance low carb and keto services that I provide, please visit the "Services" tab  located above (or you can download a one sheet summary in pdf format here).
Feel free to drop me a note through the "Contact Me" form should you have any questions or want additional information.
To our good health!
Joy
If you would like to read well-researched, credible "Science Made Simple"  articles on the use of a low carb or ketogenic diet for weight loss, as well as to significantly improve and even reverse the symptoms of Type 2 Diabetes, high cholesterol and other metabolic-related symptoms, please  click here.
You can follow me at:
 https://twitter.com/lchfRD
  https://www.facebook.com/lchfRD/