If you've had a look through some of the recipes posted on this website you know that while they're all "low carb" there are some that are high fat and others that are moderately-high fat. That's because people's individual needs in following a low carb diet are different. There isn't a "one-size-fits-all" low carb or ketogenic (keto) diet.
Eating Low Carb
Some people have higher protein needs while others have medical conditions that necessitate a therapeutic ketogenic diet (which is very high in fat and minimal carbohydrate). As well, for those seeking weight loss, those who have 15 or 20 pounds to lose won't necessarily eat the same way starting out as those with a great deal of weight to lose. Often, those with lots of weight to lose will eat differently at the beginning of their weight-loss journey than they do when they reach plateaus, and as they do towards the end of their weight loss because their body adapts and changes. As a result, these folks need to have their Meal Plan adjusted over time whereas someone with a smaller amount of weight to lose may do fine with the same Meal Plan all the way through. Everybody's different.
How I Approach It
My own meals usually center around some kind of grilled, roasted or stir-fried protein along with a generous serving of fresh low carb veggies plus some added healthy fat such as cold-pressed extra virgin olive oil or a touch of butter just to make things tasty. I don't hesitate to sprinkle salads with pumpkin seeds or a few nuts, some berries and even a bit of crumbled goat cheese and drizzle it with olive or macadamia nut oil because this way I'm happy to eat a large bowl of it and it keeps me satisfied for hours. For those whose of my clients whose dietary needs are similar, I encourage them to do the same; switching up the type of nuts or seeds they use and changing the type of cold pressed oil they use, as each tastes very different. Even changing the type of vinaigrette from vinegar-based to lemon-based or using different types of vinegar or herbs adds more variety. There are so many kinds of meat, fish, poultry and vegetables that can be eaten and each can be prepared lots of different ways, so there's no need to get bored eating the same thing.
Reversing Type 2 Diabetes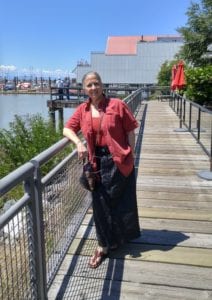 If you've been following this blog for a while, you know that I've lost almost 40 pounds in just over a year eating this way and put my Type 2 Diabetes into remission while reversing my high cholesterol and high blood pressure. You can read my own story under "A Dietitian's Journey" under the Food for Thought tab.
Since I was Diabetic for 10 years and obese for much longer than that, I tend to limit my own intake of low carb baked goods (muffins, pancakes and breads) made from ground nuts or seeds and cheese as these are very  energy dense. I still have some of my own excess fat stores to lose as well as continuing to lose fat from places it should never have been in the first place (including very likely my liver) so eating extra dietary fat outside of what is found naturally in whole, unprocessed foods (meat, fish, poultry, cheese, egg) doesn't make much sense.
I do better with a low carb lower fat cauliflower crust pizza  (recipe below) or a low carb zucchini pizza crust (recipe coming soon!) over the very popular "fathead pizza" (based on almond flour and lots of fat from different kinds of cheese) or even my own Crisp Keto Pizza (recipe below) which is high in protein and fat but low in carbs. That's why there are a few kinds of pizza recipes, so there's a choice – not just for me, but my clients and visitors to my site. One can't have too many healthy, tasty ways to eat pizza, right?
Most Popular Recipes
Below are a few of my most popular recipes grouped by type of low carb diet. Please remember, not all recipes will be suitable for your specific health conditions or weight loss goals, so if in doubt please check with your Dietitian or physician.
Higher Fat Low Carb Recipes
For those that follow a high fat style, below are a few of my most popular recipes. For me and quite a few of my clients who are in the weight loss phase, these are "sometimes foods" and not "everyday foods".
Low Carb Beer-Batter Fish (seriously amazing)
Quiche Lorraine
Crisp Keto Pizza
Desserts in this category include my  Low Carb New York Cheesecake (amazingly good!) and Low Carb / Keto Ice Cream .
Low Carb Moderately High Fat
Recipes more suited to daily fare for those who are in the weight-loss phase (like myself) are posted here.  Some of the most popular are;
Crispy Cauliflower Pizza (lower in fat than the Crisp Keto Pizza above)
Low Carb Chow Mein
Low Carb Thai Green Curry
Spaghetti Zoodles with Bolognese Sauce
Low Carb Kaiser Buns great with sliced meat or cheese and lettuce (or used as a hamburger bun!).
This Low Carb Chocolate Chip Pancake recipe was recently posted but I'm pretty sure it will become a favourite, too.
Great everyday side dishes that can accompany a wide variety of poultry, fish, meat and veggies whether for the family or company are;
Low carb high protein broad noodles
Keto Yeast Rolls
Low Carb Roti (Indian flatbread)
Higher Fat Convenience Food Recipes
I have created and posted several recipes for higher fat protein bars if you need an easy, tasty and cost-efficient substitute for expensive low carb convenience bars on the market. These are;
Chocolate Orange Low Carb Protein Bars
Chocolate Mint Low Carb Protein Bars
Low Carb High Fat (Keto) Protein Bars
I even have a Low Carb Green Tea Matcha Smoothie that can be used to target abdominal fat in those following a higher fat low carb eating plan.
---
If you have questions about how I can help you to lose weight, reverse Type 2 Diabetes, high blood pressure or high cholesterol or to adopt a low-carb lifestyle for its health benefits, please feel free to send me a note using the Contact Me form on this web page. I provide both in-person services in my Coquitlam (British Columbia) office, as well as services via Distance Consultation (phone or Skype) to those living elsewhere.
I hope you enjoy these recipes and please feel free to send me a message on social media (Facebook or Twitter, links below) if you have questions about any of the recipes or to post pictures when you make them.
To our good health!
Joy
If you would like to read well-researched, credible "Science Made Simple"  articles on the use of a low carb or ketogenic diet for weight loss, as well as to significantly improve and even reverse the symptoms of Type 2 Diabetes, high cholesterol and other metabolic-related symptoms, please  click here.
---
you can follow me at:
 https://twitter.com/lchfRD
  https://www.facebook.com/lchfRD/
Copyright ©2018 The LCHF-Dietitian (a division of BetterByDesign Nutrition Ltd.)
LEGAL NOTICE: The contents of this blog, including text, images and cited statistics as well as all other material contained here (the "content") are for information purposes only.  The content is not intended to be a substitute for professional advice, medical diagnosis and/or treatment and is not suitable for self-administration without the knowledge of your physician and regular monitoring by your physician. Do not disregard medical advice and always consult your physician with any questions you may have regarding a medical condition or before implementing anything  you have read or heard in our content.