This recipe is posted as a courtesy to those following a variety of low-carb and ketogenic diets (not necessarily Meal Plans designed by me). This recipe may or may not be appropriate for you.
This recipe began as the result of a recipe that someone posted on Facebook for Keto Blueberry Scones.  Since had raspberries in the house, I mentioned that I would use those instead when the person who posted the recipe suggested I add stevia-sweetened chocolate chips.  Since chocolate-raspberry is one of those epic combinations but not liking stevia-sweetened anything (I find the aftertaste terrible!) I decided to chop up a piece of a 95% dark chocolate bar into small chocolate chips, and use those.  Perfection!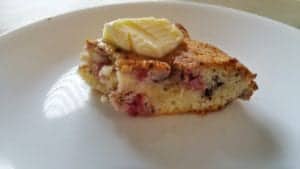 Low Carb Chocolate Raspberry Scones
Ingredients
1  1/4 cup almond flour
1/3 cup coconut flour
1/4 cup Swerve® Granulated Sweetener
1/4 tsp. sea salt
1/2 tsp. baking powder
1/4 cup coffee cream (15 % BF) *
1/4 cup heavy whipping cream (33% BF) *
2 Tbsp butter, softened
1 tsp. natural vanilla
1 egg, large, lightly beaten
1/4 cup raspberries, chopped finely
1/4 cup 95% dark chocolate, chopped finely
* Note: cream in different parts of the world is called by different names.  This table should help:


Method
Preheat oven to 375° F and line a baking sheet with a piece of parchment paper.
Mix all the dry ingredients together in a medium size bowl.
Mix all the wet ingredients in a small bowl.
Fold wet ingredients into dry ingredients.
Add chocolate chunks and raspberry pieces and fold them in gently (don't over mix).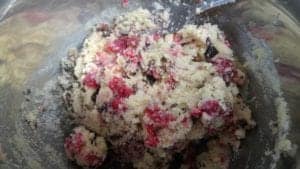 Pat into a flat disk con the parchment paper.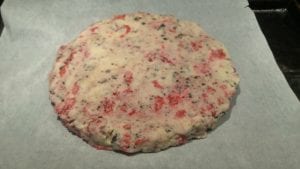 Cut into 6 pieces with a large knife or a pizza cutter.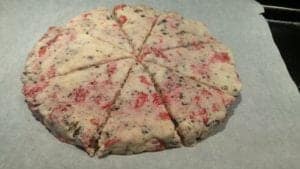 Bake at 375º for 18 minutes then remove from the oven and gently move the pieces apart from one another and return to oven until lightly golden in colour.  Don't over bake!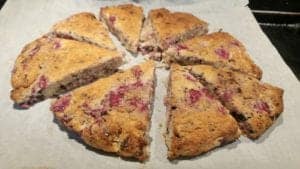 Enjoy topped with a little fresh unsalted butter!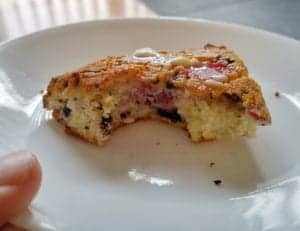 (idea based on a recipe from /www.simplefunketo.com/blog/scones)
Macros
Energy: 217 kcal
Protein: 6 g
Net Carbs: 4.2 g
Fat: 18.2 g
You can follow me at:
 https://twitter.com/lchfRD
  https://www.facebook.com/lchfRD/