I am an experience Registered Dietitian that has been providing all services via Distance Consultation for more than a decade — from assessments to Nutrition Education Sessions, to follow-up visits, to very specialized clinical support. Distance Consultations provide virtual 'face-to-face' visits and by using a secured, online video platform, services are indistinguishable from what used to have to be provided in-person. Distance Consultations are ideal for people living on the other side of the country or across the city and eliminate the need to schedule time off work, fight traffic or arrange childcare. With recent concerns about COVID-19 virus transmission in Vancouver*, virtual healthcare visits for those in this area are more popular than ever. 
*You can read more about the local coronavirus situation under the Food For Thought tab.
I am registered with the College of Dietitians of British Columbia, Alberta and Ontario and am licensed to provide Dietetic services in every province in Canada, except PEI.  I provide detailed receipts listing my inter-provincial Dietitian license numbers which makes it easy to submit receipts to extended benefit providers for reimbursement. While I am not licensed as a Dietitian outside of Canada, I am able to provide nutrition education services to those in the US and beyond.
How does Distance Consultation work?
Once we've booked the appointment to meet via secured, HIPAA-compliant video conferencing, I'll send you a link to click on in order to connect using your already-installed Skype program, or Microsoft Teams. I'll also email you any documents that we'll be using during our call.
For an assessment appointment (which is the first visit in a Complete Assessment Package / Meal Planning Package), I allocate over an hour to ensure that I have enough time to collect all the information that I need and for you to ask any questions you may have.  If booking an appointment that long is a challenge for you, we can book two 35 minutes appointments, instead. Some people find these shorter sessions easy to fit in over their lunch hour, first thing in the morning or after their work-day.
For appointments to go over your Meal Plan or a Nutrition Education Session on another topic, we'll book an hour appointment and I will allocate time during the session, or leave time at the end for you to ask me questions or clarify anything.
A client of mine, who also sees her physician remotely, remarked:
'virtual services are such an efficient use of my time, as well as that of my healthcare providers'.
New to Virtual Healthcare?
Perhaps you've never done a virtual healthcare appointment and wonder what it's like. I'd be happy to set up a free 10-minute meeting with you at the beginning or end of my clinical day, or on your lunch hour for you to see how comfortable it is to meet this way.
Please send me a note using the Contact Me form above letting me know the type of services that you are looking for, and I'll send you what's needed to connect.
What a Distance Consultation is Like
From your side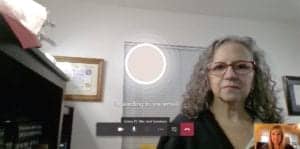 When you click on the link that I will have sent you, we'll be connected. You will see me at my desk in my office, the same as you would in person.
I'll have everything in front of me that I would for an in-person appointment, including your chart and the Nutritional Assessment Questionnaire that I use to collect information in.
You'll also see yourself in the lower right hand corner of the same screen.
From my side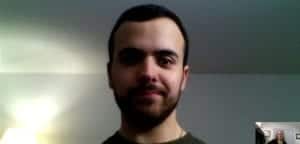 When we are connected, I'll see you full screen, and myself in the lower right hand corner.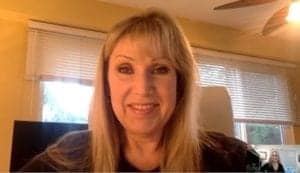 For those who prefer it, the video option can be turned off and this technology can be used in audio-mode only. If you're really not comfortable meeting via computer, all Canadian or US services can be provided via telephone, as I did for 8 years before I started using video conferencing. We can use whichever method you are most comfortable with.
Want to get started?
If you would like to book services from Canada please download and complete the Intake and Service Option Form available here .
If you live outside of Canada and would like to book Nutrition Education services, please use this form.
Have questions?
If you have any questions, you can send me a note using the "Contact Me" form on the tab above, and I'll be happy to reply as soon as I can.
I look forward to working with you!
Joy
Copyright ©2020 The Low Carb Healthy Fat Dietitian (a division of BetterByDesign Nutrition Ltd.)
LEGAL NOTICE: The contents of this blog, including text, images and cited statistics as well as all other material contained here (the "content") are for information purposes only.  The content is not intended to be a substitute for professional advice, medical diagnosis and/or treatment and is not suitable for self-administration without the knowledge of your physician and regular monitoring by your physician. Do not disregard medical advice and always consult your physician with any questions you may have regarding a medical condition or before implementing anything  you have read or heard in our content.