Perhaps you've been wanting the support of an experienced Registered Dietitian to get started on a well-designed low carb or keto Meal Plan, but free time is very limited. Whether it's juggling a busy work schedule and home life, or the demands of young children, a Distance Consultation solves this problem. Many parents of school-aged children find this option very helpful during the summer months.
Distance Consultations enable me to provide you with the exact same services as I do in-person without the need for you to come to my office. Whether you live across town or on the other side of the country, I am able to help.
I have almost ten years experience providing all aspects of services via Distance Consultation; from complete assessments, to Nutrition Education Sessions, to follow-up visits. In fact, many folks that see me initially in-person often take follow-up services via Distance Consultation, saving travelling time and booking 6 half-hour sessions, rather than 3 one-hour appointments.
I am licensed to provide Dietitian services in all provinces and territories in Canada except PEI and extended benefits plans will reimburse for licensed services whether they are taken in-person or remotely.
Note (August 26, 2019): Virtual Dietitian Practice – New Provincial Registration Requirements have just been released which now require Dietitians that provide virtual services to clients in Ontario to be registered with the College of Dietitians there. I am already registered in BC and Alberta, and have initiated the process of registering in Ontario, in keeping with these new requirements. It is my hope that this process will be completed by early September.
I provide nutrition education (not Registered Dietitian services) to those outside of Canada.
How does Distance Consultation work?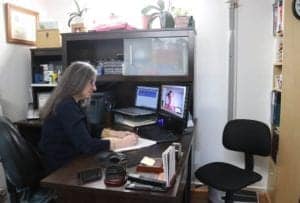 We'll book an appointment the same way we would as if you were coming to my office except that we will meet virtually, via HIPAA-compliant video conferencing. I'll conduct the appointment the same way as if you were here. You'll have my undivided attention and the same privacy as if you were sitting in my office.
During the appointment, you may be in your office before or after work, on your lunch hour, or at home on your computer or smartphone.
We can even meet via land-line telephone, if you prefer.
For an assessment appointment (which is the first visit in a Complete Assessment Package / Meal Planning Package), I always allocate an hour and a half (whether in-person or via Distance Consultation) to ensure that I have ample time to collect all the information that I need.
If booking a longer first appointment is a challenge for you, we can book two 45 minutes appointments instead. People find these shorter sessions very easy to fit in over their lunch hour, first thing in the morning or after their work-day.
For appointments to go over your Meal Plan or a Nutrition Education Sessions on another topic, the session lasts an hour.  Before our appointment, I will email you the documents that we'll use and go through them with you during our call.
Just as you would in person, you'll have time to ask me questions and clarify anything you want me to explain further.
Want to get started?
If you would like to book services via Distance Consultation please follow these simple steps;
1.(a) If you are in Canada and seeking my services as a Dietitian, please download and complete the Intake and Service Option Form available here , ticking off the box that you would like to consult with me via Distance Consultation (rather than in-person), then return the completed form to me at the email address indicated on the form.
(b) If you live outside of Canada and are seeking Nutrition Education Services, please use this form*.
* Please note that services provided to those outside of Canada are not Dietetic services, but for nutrition education purposes only.  If you have complex health issues and/or take multiple medications, please consult with a Registered Dietitian in the state where you live.
 Note: If you would like a password-protected form for emailing to me, please send me a note using the Contact Me form on the tab above and I will be happy to send you one.
2. Please let me know the days and times you are available for an appointment and I will email you one of those as an appointment time.
3. Once we have a time all set, I'll send you an invoice for the services that you have selected, which you can then pay for online in the Shop on the secured server. 
4. Finally, I'll send you a receipt and confirmation of our appointment time, then we're all set!
To make things less confusing, please let me know appointment times based on Vancouver, British Columbia (UTC-7 hours) time. You can refer to this site to convert your time zone to Pacific Standard Time (PST); www.timeanddate.com/worldclock/converted.html
Have questions?
If you have any questions, you can send me a note using the "Contact Me" form on the tab above, and I'll be happy to reply as soon as I can.
You can follow me on Social media at:
Twitter: https://twitter.com/lchfRD
Facebook: https://www.facebook.com/lchfRD/
Instagram: https://www.instagram.com/lchf_rd
Copyright ©2019 The Low Carb Healthy Fat Dietitian (a division of BetterByDesign Nutrition Ltd.)
LEGAL NOTICE: The contents of this blog, including text, images and cited statistics as well as all other material contained here (the "content") are for information purposes only.  The content is not intended to be a substitute for professional advice, medical diagnosis and/or treatment and is not suitable for self-administration without the knowledge of your physician and regular monitoring by your physician. Do not disregard medical advice and always consult your physician with any questions you may have regarding a medical condition or before implementing anything  you have read or heard in our content.