Welcome to the Low Carb High Fat Dietitian
Hi, I'm Joy Kiddie and I'm a Registered Dietitian in private practice in British Columbia, Canada. I provide in-person low carb / ketogenic services in my centrally located Coquitlam office, as well as by distance consultation using telephone,  Skype or Google hangout. I am registered with the College of Dietitians of British Columbia and while my place of business is in British Columbia, I provide remote services for those throughout the province and beyond.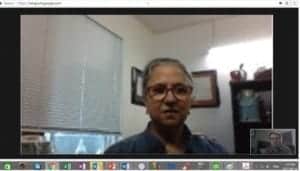 I help people reach and maintain a healthy body weight and to work towards their goal of reversing the symptoms of Type 2 Diabetes, insulin resistance, high triglycerides, abnormal cholesterol and high blood pressure by implementing a low carb lifestyle.
I offer a variety of services – all of which have as a basis a low percentage of carbohydrates and a high percentage of healthy fats.
There are a variety of approaches available, including a higher ratio of protein to fat (LCHP), higher ratio of fat to protein (LCHF), as well as a hybrid approach.  Which approach is right for you will depend on what your goals are, if you have any metabolic or medical conditions, as well as your lifestyle and dietary preferences. For some people, it may be helpful to start with one approach and modify it as you get closer to meeting your goals.  Everybody is different.
For those seeking to use nutritional ketosis for a number of its therapeutic benefits, I'll work with you to coordinate dietary and lifestyle changes with your doctor, as they monitor your health and adjust the levels of any medications prescribed, as necessary.
I provide services on an hourly basis and also offer several packages. Remember that many extended benefits plans cover visits with a Registered Dietitian.
The Complete Assessment Package is an all-inclusive package for clients who want to eat healthier, lose weight and lower their insulin resistance. This package includes a one hour to one-and-a-half-hour initial appointment to establish dietary goals, collect personal and family medical history, review any recent laboratory test and to conduct a complete food habit and lifestyle review. Based on the information collected, a customized Individual Meal Plan will be designed for you, factoring in your weight management goals. We will meet again for a one-hour Nutrition Education Session for me to review your Meal Plan with you, and to teach you simple, yet accurate ways for you to estimate your portion sizes. With the Meal Plan I'll design for you, there will be no need to weigh and measure food! I'll answer your questions and be available to you afterwards via email to answer any additional ones that you have as you begin to implement your Meal Plan.
Be sure to ask me about the Family Discount which is available when additional people from the same family (spouse, children) also take the Complete Assessment Package. Everyone's Individual Meal Plans will be coordinated and the Nutrition Education Session will take place as a group session.
I also offer two follow-up packages:
The Dietary Management Package is a follow-up package for those who've already completed the Complete Assessment Package (or the equivalent on an hourly basis) and would like additional support or 'coaching' as they implement their Individual Meal Plan. This package can be taken as 6 half-hour sessions or as 3 one hour-sessions – or as a combination of a one-hour first session and 4 half hour sessions.
Anti-Inflammatory Protocol (AIP) Package is designed especially for those with inflammatory conditions including chronic pain, arthritis (osteo- or rheumatoid) or one of several auto-immune conditions that result in inflammation. In this package, I will teach you which specific foods promote inflammation and why, and which foods are evidence-based to have anti-inflammatory properties. The goal of this package is to reduce pain and stiffness and lower markers of inflammation.
For those seeking other types of services, I offer the Customized Nutrition Package which will be designed in consultation with you.
A complete summary of my services in pdf format is available for download here.
My Clinical Office
For those interested in seeing me in person, I am 
located in central Coquitlam — just 7 minutes drive from Coquitlam Centre — close to Port Coquitlam, Port Moody, Burnaby, New Westminster, Pitt Meadows and Surrey.
Coming by public transit?
My office is ~12 minutes by bus from the Coquitlam bus loop, with several buses routes to choose from, and just up the hill from the new Evergreen Skytrain line.
My office is bright and open, yet offers privacy at the same time. It is gently air-conditioned in summer and comfortably heated in winter. Since I also provide services to those with allergies and sensitivities through my regular clinical practice, please note that my office is necessarily scent-free and is a peanut-free zone.
Clinical Hours
Clinical hours are weekdays 9:00 AM to 5:00* PM
*3:00 PM on Fridays
Questions?
Please click on the "Contact Me" tab and send me a note.