Welcome to the Low Carb Healthy Fat Dietitian
I'm Joy Kiddie and I have operated my private practice in Coquitlam, British Columbia for a dozen years, and have been providing virtual Dietetic services across Canada for over a decade (more on Distance Consultations, below). 
I offer a range of services for those seeking to follow a low carb or very low carb / ketogenic ("keto") diet for therapeutic reasons or personal choice.
Low Carb or Keto?
Eating "low carb" can be a lifestyle choice no different than someone choosing to become vegetarian, or it may be prescribed by one's doctor to help treat pre-Diabetes, Type 2 Diabetes or number of other related metabolic conditions.
A ketogenic ("keto") diet is a very low carbohydrate diet that was originally used to improve the symptoms of epilepsy and seizure disorder and a modified version is being safely and effectively used to lower blood sugar in those with pre-diabetes or Type 2 Diabetes, and for weight management. In fact, a low carbohydrate and very low carbohydrate (ketogenic) diet are now two of the meal patterns, along with a few others that the American Diabetes Association recognizes as Medical Nutrition Therapy for those purposes (you can read more about that under the Food For Thought tab).
There is no one-size-fits-all low carb or ketogenic diet, but rather several different approaches to both of these; including a higher ratio of protein to fat, higher ratio of fat to protein, as well as a hybrid approach. Which approach is most suitable for you and which types of fats are best for you to eat will depend on your health status, any metabolic conditions you may have and medications that you may be taking, as well as your personal preference.
Distance Consultations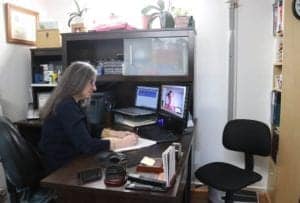 Distance Consultations enable me to provide complete services to my clients without the need for an in-person visit. This is ideal for people living across the city, on the other side of the country and for those with challenging schedules. Meeting via Distance Consultations means there is no need for you to schedule time off work, fight traffic or arrange childcare — and we still get to meet 'face-to-face'.
I am registered with the College of Dietitians of British Columbia, the College of Dietitians of Alberta and the College of Dietitians of Ontario, and am licensed to provide Dietetic services in every province in Canada (except PEI). While I am not licensed as a Dietitian outside of Canada, I am able to provide nutrition education services to those in the US and beyond. 
You can find out more about Distance Consultations by clicking on the tab above or here.
I am a member of Canadian Clinicians for Therapeutic Nutrition, a group of Canadian of physicians and healthcare professionals that utilizes evidence-based dietary interventions to improve and when possible to reverse the symptoms of chronic, yet preventable nutritionally-related diseases.
Personally Relatable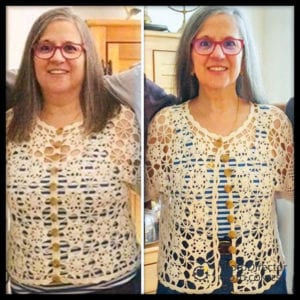 In addition to having professional training and experience as a Registered Dietitian, I also understand first-hand what it's like to lose significant amounts of weight and to lower abnormal lab markers by following a low carb / keto lifestyle.
In March 2017, I had been obese for years, had uncontrolled Type 2 Diabetes, very high blood pressure, high insulin levels and abnormal cholesterol. By following a low carb and then a ketogenic diet over the following two years, I lost substantial weight and put my Type 2 Diabetes and high blood pressure into remission. I continue a very low carb lifestyle and maintain my health and weight loss achievements without much effort.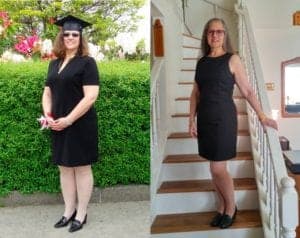 Even though I knew what to do, I had to do it just like anyone else and my passion is to help others to do the same. 
Keep in mind that individual results following a low carbohydrate diet will vary.
My Clinical Office
For those that live locally, my office is located in central Coquitlam — just 7 minutes drive from Coquitlam Centre, close to Port Coquitlam, Port Moody, Burnaby, New Westminster, Pitt Meadows and Surrey.
Coming by public transit?
My office is minutes by bus from the Coquitlam bus loop, with several buses routes to choose from, and just up the hill from the Evergreen Skytrain line.
My office is bright and open, yet offers privacy at the same time.  It is gently air-conditioned in summer and comfortably heated in winter.
Since I also provide services to those with allergies and sensitivities my office is necessarily scent-free and is a peanut-free zone.
Clinical Office Hours
In-person clinical hours are weekdays 9:00 AM to 5:00* PM
(*3:00 PM on Fridays).
Distance Consultations via Skype or telephone can be booked earlier on most days and a little later on a few.
Services
I offer services on an hourly basis, as well as complete packages, including;
Complete Assessment Package 
Dietary / Weight Management Package
Anti-Inflammatory Protocol
Please click on the Services tab or have a look in the Shop for details.
If you are looking for services for food sensitivities / food allergies, Celiac disease, Irritable Bowel Syndrome (IBS), diverticulosis, Inflammatory Bowel Disease (ulcerative colitis, Crohn's disease), pancreatitis or Small Intestinal Bowel Overgrowth (SIBO), please visit my affiliate practice, BetterByDesign Nutrition Ltd.
More Info?
Please click on the "Contact Me" tab to send me a note.