INTRO: "Before" and "after" photos are often the source of encouragement, as I progress on my journey.  This "before and since" photo serves as some Monday-morning motivation.
Yesterday, after ten days on crutches and a brace due to a torn MCL tendon, I had finally progressed to a cane and just had to get out for a bit.  With a break in the rain, one of my sons and I headed for Indian Arm, an ocean inset nearby. It was mild and humid and I really didn't want to wear a long sleeve jacket, so I reached for a down-filled vest that I bought a number of years ago that never zipped or snapped up, and headed out.  When we arrived, there was a breeze off the salt water and instinctively, I zipped up the vest and snapped the outer snaps. Only in hindsight did I realize this was the first time I ever did that – and with a little room to spare.
We walked (actually, I hobbled on my cane) along the coast path and down to the pier and took in the fresh air and beautiful view. As we were leaving, I remembered the photo that was taken of me 2 1/2 years ago on the same pier, around the time I first learned about eating low carb high fat (LCHF) and asked my son to snap a photo of me on my phone, so I could compare them. In both photos, I was dressed in comfortable clothes, with no makeup and my hair however it was.
When we returned home, I dug out the old photo and here they are, side by side.  Even with my puffy down-filled vest and knee brace, the difference is noticeable, even though it has only been 6 months that I have been "practicing what I preach" and eating low carb, myself. Since I am very much 'in progress' with my weight loss and achieving my health goals, I refer to this as before and since rather than before and after.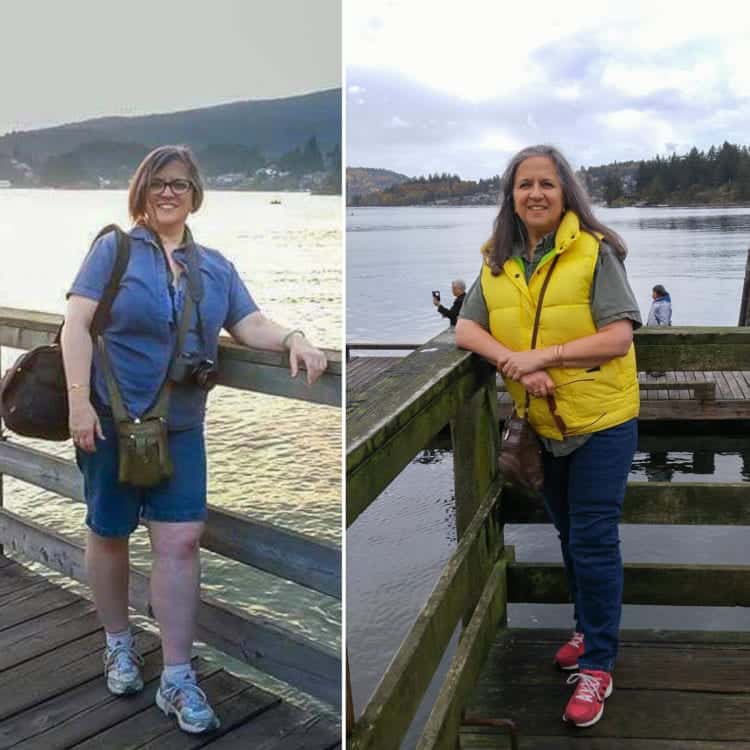 It will be interesting to take an updated photo this time next year to see the progress.
Encouragement in our health journeys come in many forms; a number on the scale, new lab results, readings on a glucometer, or photos over time.
Today I celebrate this mid-point progress in this Dietitian's Journey and I encourage you to celebrate yours!
To our good health!
Joy
You can follow me at:
 https://twitter.com/lchfRD
  https://www.facebook.com/lchfRD/
Note: I am a "sample-set of 1" – meaning that my results may or may not be like any others who follow a similar lifestyle. If you are considering eating "low carb" and are taking medication to control your blood sugar or blood pressure, please discuss it with your doctor, first.
Copyright ©2017 The LCHF-Dietitian (a division of BetterByDesign Nutrition Ltd.) 
LEGAL NOTICE: The contents of this blog, including text, images and cited statistics as well as all other material contained here (the "content") are for information purposes only.  The content is not intended to be a substitute for professional advice, medical diagnosis and/or treatment and is not suitable for self-administration without the knowledge of your physician and regular monitoring by your physician. Do not disregard medical advice and always consult your physician with any questions you may have regarding a medical condition or before implementing anything  you have read or heard in our content.