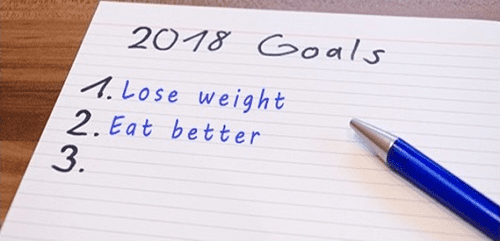 It's halfway through the first week of 2018 so, how are you doing with accomplishing your New Year's goals?
According to two University of Scranton studies, by the end of the first week 50% of people who made health and weight loss resolutions will have already given up.
By the end of January, that number will rise to 83%.
In fact, only 8% of people are successful in achieving their health and fitness resolutions on their own – perhaps because it takes ~66 days for a new behaviour to become a habit (Lally et al, 2010).
That's more than 2 months. 
Having the professional support of a Registered Dietitian during this critical time can make all the difference!
I can help.
Perhaps you've lost weight before by cutting portion sizes, going to the gym and eating 'low fat'. You ate cottage cheese, skimmed milk and celery sticks until it was coming out of your ears and while the weight did come off, you were hungry, grumpy and cold.
What if I told you there's a much better and easier way to lose weight, where you eat real food that's easy to prepare and tastes great? There is no weighing  and measuring food portions and there are no special products to buy.
I not only teach others how to do this, I eat this way myself.
There are many benefits to eating this way in addition to losing weight, including the ability to reverse symptoms of Type 2 Diabetes and prediabetes, lower high blood pressure and high triglycerides and improve cholesterol.
Want to know more?
Please send me a note using the "Contact Me" form on the tab above to find out how I can help you be successful at achieving your weight loss and health goals for 2018.
Let's do this together!
To our health!
Joy
---
If you would like to read well-researched, credible "Science Made Simple"  articles on the use of a low carb or ketogenic diet for weight loss, as well as to significantly improve and even reverse the symptoms of Type 2 Diabetes, high cholesterol and other metabolic-related symptoms, please  click here.
You can follow me at:
 https://twitter.com/lchfRD
  https://www.facebook.com/lchfRD/
References
Lally, P., van Jaarsveld, C. H. M., Potts, H. W. W. and Wardle, J. (2010), How are habits formed: Modelling habit formation in the real world. Eur. J. Soc. Psychol., 40: 998–1009.
Norcross, JC et al, Auld lang syne: success predictors, change processes, and self-reported outcomes of New Year's resolvers and nonresolvers. J Clin Psychol. 2002 Apr;58(4):397-405
New Year's Resolutions for 2013 – Changeology, Dr. John C. Norcross