This recipe is posted as a courtesy to those following a variety of low-carb and ketogenic diets (not necessarily Meal Plans designed by me). This recipe may or may not be appropriate for you.
What if I told you that it is possible to enjoy real Chili Con Carne on a low carb high fat plan?  Would you be interested?
This Chili is rich with ancho chili peppers, diced onion and green pepper, with plenty of fresh minced garlic. Along with a hint of ground cumin, a healthy dash of oregano and salt, these classic chili seasonings are simmered gently with browned, medium ground beef, canned diced tomatoes and beans…real beans!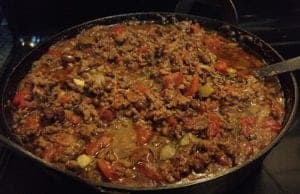 Beans? How can it be low carb with beans??!
Ahhh, that's because these beans are black soy beans. Yes, they're a thing!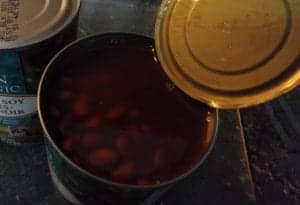 Black Soy Beans are soybeans that have a black seed coat on the outside of the bean. Inside, they are the same colour as regular yellow soybeans, although they are smaller than yellow soybeans. Though they look quite a bit like Black Turtle Beans, don't mix the two up, because Black Turtle Beans are high in carbs, as are all legumes and pulses (another word for "beans").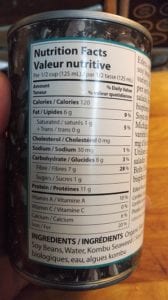 Black Soy Beans are so low in carbs and so high in fiber, that they have a mere 1 gm of carbohydrate for a 1/2 cup serving – and there is only one can of these beauties in the entire pot of chili.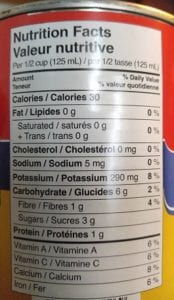 Canned tomatoes are fairly low in carbohydrate too, and there was only one 796 mL (28 oz) can of those in the entire recipe.
The rest was veggies, meat and seasoning.
Here's the recipe:
Low Carb Chili Con Carne
Ingredients
2 tbsp. coconut oil
1 kg (2.2 lbs) medium ground beef
1 large onion, diced
1 large green pepper, diced
1 tbsp. ancho chili pepper, ground
1 tbsp. fresh garlic, minced finely
1/2 tsp cumin, ground
1 tsp. oregano (Mexican or Greek), rubbed
sea salt, to taste
Method
1 – In a heavy dutch oven or cast iron casserole, melt the coconut oil over a medium-high heat.
2 – Add the diced onion and saute until translucent, but not browned. (Don't let the pan get too hot.)
3 – Add the diced green pepper and saute until wilted.
4 – Add the ancho chili pepper and gently saute until all the vegetables are soft and well coated with the pepper, then add the salt, cumin and oregano.
5- Sprinkle the freshly minced garlic on the top and continue sauteing gently until it begins to become translucent.
6 – Gently crumble the ground beef on top of the cooked, seasoned vegetables and continue to saute over a medium high heat until the beef begins to brown.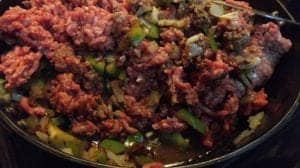 7 – Empty the can of diced tomatoes on top.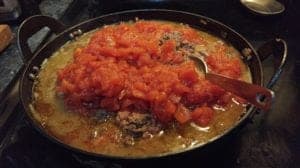 7 – Then empty the can of black soy beans with the liquid, on top of the tomatoes.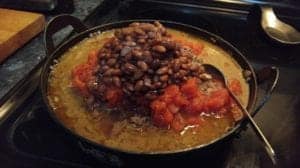 8 – Gently stir until well mixed, then simmer over a low heat for at least an hour (preferably until the liquid is thick and flavourful.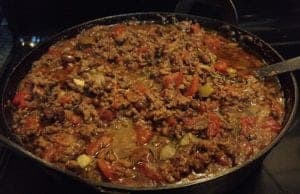 9 – Serve the chili in individual soup bowls, topped with your favourite chili toppings. Some popular ones are diced avocado, minced green onions, shredded mozzarella and a dollop of sour cream. Top with Mexican habanero sauce if desired and enjoy!
---
If you would like to read well-researched, credible "Science Made Simple"  articles on the use of a low carb or ketogenic diet for weight loss, as well as to significantly improve and even reverse the symptoms of Type 2 Diabetes, high cholesterol and other metabolic-related symptoms, please  click here.
You can follow me at:
 https://twitter.com/lchfRD
  https://www.facebook.com/lchfRD/