This recipe is posted as a courtesy to those following a variety of low-carb diets (not necessarily Meal Plans designed by me). This recipe may or may not be appropriate for you.
Low Carb Mediterranean-Style Flatbread
Ingredients
1 -1/3 cup almond flour
1 1/2 tsp kosher salt
1 tsp baking powder
6 tbsp psyllium husk powder*
4 egg whites
½ cup hot water
Instructions
*Place the whole psyllium husk in a clean, dry coffee grinder and pulse several times until it's a fine powder. This is important as using regular psyllium husk will result in the wrong texture.
In the bowl of a food processor, add the almond flour, powdered psyllium powder, baking powder and salt and pulse until well mixed.
Add the egg whites and hot water and pulse the food processor until the dough forms a mass, then pulse the food processor a few more times until it forms a ball on the blade.
Remove the dough from the food processor and then knead it a few times until it forms a smooth ball. Place the dough in a clean plastic bag and let it rest for a full 15 minutes before beginning to make the flat bread.
Preheat a stick proof skillet to a medium-high heat. 
6. Cut the ball of dough in half and then each half in 1/4 so that there are eight 1" balls.
7. Lining a tortilla press with a piece of heavy plastic**, place one of the 1″ balls in the press and press well until it is the thickness of a standard corn tortilla. Be careful not to press it too thin or some will stick to the plastic when you try to get it off. **If you don't have a tortilla press, it can be rolled out between sheets of heavy plastic or parchment paper until each piece of dough is 5-inches in diameter.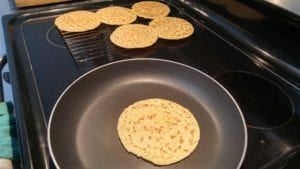 **Note: I cut open a large freezer weight zipper-style bag to use in the tortilla press when pressing the dough. By peeling one side open, it makes it easy to peel off the other side before transferring the dough to the preheated skillet
8. Immediately transfer the pressed dough onto the preheated non-stick skillet and bake for ~2-3 minutes then flip it over using a spatula and cook until "just" cooked (maybe another 10-15 seconds, maximum.
9. Place on a baking rack for a few minutes to cool (if saving for later). Can be stored in a heavy duty zipper bag and refrigerated for use later.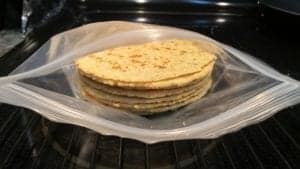 Special thanks to Viken Basmadjian of Montreal for the recipe.
---
For Za'atar bread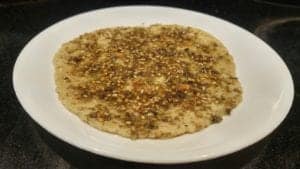 Brush the top of each baked flatbread with a good quality extra virgin olive oil and sprinkle with a mixture of za'atar (ground thyme, sumac, salt and whole sesame seeds – that sometimes has added marjoram and oregano) and and a little extra sumac(lemony tasting ground berry of a shrub that grows in the Mediterranean and parts of the Middle East) and warm gently before eating.
Macros (per plain flatbread)
Energy: 255 kcals
Protein: 12.5 g
Total Carbs: 22.4 g – Fiber: 11.7 g = Net Carbs: 10.8 g
Fat: 3.3 g
You can follow me at:
         https://twitter.com/lchfRD
          https://www.facebook.com/lchfRD/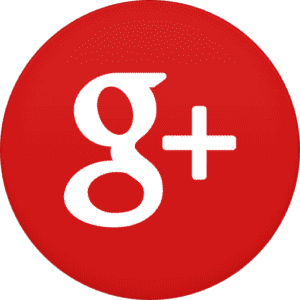 https://plus.google.com/+JoyYKiddieMScRD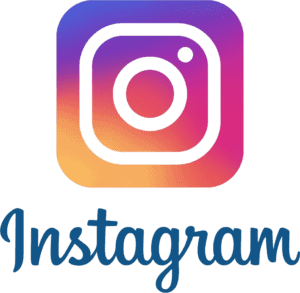 https://www.instagram.com/lchf_rd
Copyright ©2019 The LCHF-Dietitian (a division of BetterByDesign Nutrition Ltd.)
LEGAL NOTICE: The contents of this blog, including text, images and cited statistics as well as all other material contained here (the "content") are for information purposes only.  The content is not intended to be a substitute for professional advice, medical diagnosis and/or treatment and is not suitable for self-administration without the knowledge of your physician and regular monitoring by your physician. Do not disregard medical advice and always consult your physician with any questions you may have regarding a medical condition or before implementing anything  you have read or heard in our content.