This recipe is posted as a courtesy to those following a variety of low-carb and ketogenic diets (not necessarily Meal Plans designed by me). This recipe may or may not be appropriate for you.
What would the holidays be without eggnog? I'm not talking about the artificially yellow-coloured, carrageenan-thickened beverage from the supermarket, but real eggnog rich with egg yolks and heavy cream. That's what I'm taking about!
Whether its for Christmas Eve or New Years, eggnog embodies the holidays.
According to Statistics Canada, during the 2014 holiday season, Canadians drank ~5.3 million litres of commercially made 'eggnog', but apparently a decade ago, it was closer to 8 million litres! Perhaps the mistaken belief that saturated fat is 'bad' for us has led to the decline, or maybe it is simply that the commercial-prepared substitute pales in comparison to real eggnog.
The National Dairy Code defines eggnog as;
"food made from milk and cream containing milk and cream which has been flavoured and sweetened. The food shall contain not less than 3.25 per cent milk fat and not less than 23 per cent total solids."
Milk and cream?
Real eggnog is made from lots of egg yolks and cream – heavy cream and light cream. It is delicately flavoured with freshly grated nutmeg and some also add a hint of real vanilla extract (made from vanilla beans, soaked in vodka) and yes, it is often served liberally mixed with rum.
In days gone by, eggnog was made from raw egg yolks, but my recipe cooks the egg yolks over a double boiler then holds them at a high enough heat to make them safe. It is lightly sweetened and then blended with cream and spices and placed in a glass milk bottle, until well chilled.  Yes, it is enjoyed with real rum (carb free).
Here is my recipe for eggnog – just in time for the holidays!
---
Keto Eggnog
6 egg yolks, large (from free range chickens, bright yellow yolks)
1/2 cup heavy cream (whipping cream)
1/4 cup of Swerve® or Xyla® brand sweetener (erythritol)
1/4 tsp nutmeg, freshly grated
1 litre coffee cream (10% BF) – also called "half and half"
In the top of a double boiler (not over hot water), whisk the egg yolks, heavy cream and erythritol sweetener to blend well.


---

Bring water in the bottom of the double boiler to a gentle boil and place the top part, with the eggs on top.  From this point on, whisk constantly without stopping (otherwise you will have scrambled eggs).


---

Whisk vigorously and constantly until the mixture is thickened and keep whisking until an instant-read thermometer inserted into the mixture reads 140°F for 3 minutes or longer.The mixture should be thick enough to completely coat the back of a spoon.


---

Remove the top part of the double boiler and keep whisking the mixture a little while longer, as it begins to cool down.


---

Add the freshly grated nutmeg (and splash of real vanilla, if using) and whisk another 2 minutes or so, as the mixture continues to cool.
---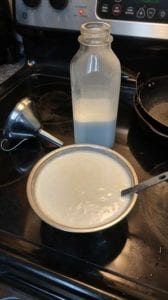 6. When the mixture has reached room temperature, gently whisk in the coffee cream and place in a glass milk bottle or glass pitcher with a tight fitting cover, so the eggnog doesn't absorb the smells of other foods in the fridge.Allow the eggnog to chill thoroughly before serving (with or without rum).
---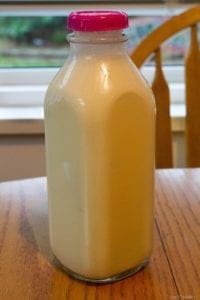 Enjoy!
Merry Christmas and Happy New Year!
Joy
---
If you would like to read well-researched, credible "Science Made Simple"  articles on the use of a low carb or ketogenic diet for weight loss, as well as to significantly improve and even reverse the symptoms of Type 2 Diabetes, high cholesterol and other metabolic-related symptoms, please  click here.
You can follow me at:
 https://twitter.com/lchfRD
  https://www.facebook.com/lchfRD/
---
Reference
http://www.cbc.ca/news/canada/british-columbia/egg-nog-christmas-drink-alcohol-eggs-milk-fink-1.3871400