Most criticism of a low carb lifestyle or ketogenic diet centers around a few common misconceptions including that such a lifestyle is "restrictive", "imbalanced", or that it's "not sustainable". This article addresses all three.
Firstly, as explained in an earlier post there isn't a single "low carb" diet but basically 3 styles;
(1) low carb high protein
(2) low carb high fat approach
(3) higher protein lower fat intake during weight loss, then a moderate protein high fat intake during weight maintenance
What makes a low carb diet "keto" is the amount of carbohydrate that is eaten.
There are different types of therapeutic ketogenic diets which have different clinical applications, including use in epilepsy and seizure disorder, specific types of cancer, Polycystic Ovarian Syndrome (PCOS), weight loss and improving insulin sensitivity and in each case, the ratio of protein to fat is specific to the condition (and in cases of weight loss and improving insulin sensitivity, to the individual).
While our bodies have an absolute requirement for essential amino acids, and essential fatty acids, as covered in detail in an earlier article, according to the Dietary Reference Intakes for Energy, Carbohydrate, Fiber, Fat, Fatty Acids, Cholesterol, Protein and Amino Acids (2005) there is no essential need for dietary carbohydrate provided that "adequate amounts of protein and fat are consumed".
That is, a low carb or ketogenic diet can be 'complete' as long as it supplies adequate amounts of protein (with all essential amino acids) and fat (with the essential fatty acids) and also provides the other nutrients the body requires (such as vitamins and minerals).
This is where I can help. I'll design a nutritionally adequate Meal Plan specifically for you, in light of any clinical conditions you may have and factoring in your goals in choosing to eat this way.
Let me address the common (but unfounded) misconceptions that a low carb or ketogenic diet is "restrictive", "imbalanced" or "not sustainable".
A Low Carb or Keto Diet is "restrictive", "imbalanced" or "not sustainable"
Usually, when people make comments like these, they have absolutely no idea that there are different types of low carb and keto diets. Ketogenic diets used in epilepsy and seizure disorder are very specific, as are ketogenic diets used for those with specific types of cancer. Ketogenic diets used to target insulin resistance associated with Type 2 Diabetes or pre-Diabetes are different again.
Foods and ratios of foods eaten when following a low carb diet targeting insulin resistance based on Dr. Jason Fung's approach will differ somewhat from a low carb diet based on Dr. Eric Westman's approach. A low carb diet based on Dr. Stephen Phinney and Dr. Jeff Volek's approach will be different during the weight loss phase than during weight maintenance. As well, some low carb diets target protein and others target fat. Some promote unrestricted saturated fat in all forms, including bacon and cream, while others don't. For example Dr. Fung's approach does not limit eggs, cream and bacon and for weight loss, Dr. Westman's approach does.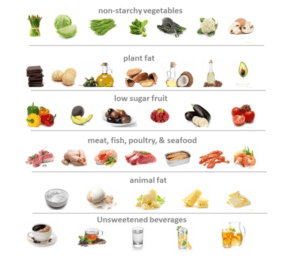 In my practice, I focus on whole, unprocessed foods that are naturally low in carbohydrates and that come from a wide range of food categories, including non-starchy vegetables, plant fats, low sugar fruit, meat fish poultry and seafood, and animal fat.
I encourage people to eat the fat naturally found in the flesh of animal protein, but to trim meat of extraneous visible fat.
If people enjoy eating bacon from time to time, I'd encourage them to obtain one that is naturally cured and smoked and to eat it on occasion rather than daily.
From my perspective, it makes no sense for someone seeking weight loss to 'add fat' to foods for the sake of adding fat (e.g. 'bulletproof' coffee or 'fat bombs').  If people want to have a bit of cream in their coffee or a touch of butter on their asparagus there's no reason why not, as there is nothing intrinsically 'dangerous' about fat, even saturated fat (more on this in upcoming blogs!). However from my perspective, adding coconut oil and butter to coffee for the sake of "adding fat" makes no sense, even for those following a "ketogenic" diet. I encourage folks to pursue health, not ketones.
Note: There are very few physiological conditions that require very high fat intake such as specialized diets for epilepsy or seizure disorder or for specific types of cancer as an adjunct to treatment.
To address the misconceptions that a low carb or ketogenic diet is restrictive, imbalanced or in any way unsustainable, below are some photos of types of foods that I prepare and eat. Everybody has different types of foods that they enjoy, these are simply some of mine.
Keep in mind that in some photos, only the main course is shown not the large salad or side of cooked vegetables which almost always accompanies it. As well, many of the servings shown are of one of my young adult son's plates, rather than mine (my serving sizes are different because my nutritional needs are different).
I am showing these photos to dispel the myth that eating a low carb diet is in any way "restrictive", "imbalanced" or "not sustainable" and I hope they give you some ideas of the wide range of whole, delicious food that is available to be enjoyed when pursuing a low carb or keto lifestyle.
Shakshuka is weekend breakfast or brunch food, that I usually serve with a huge mixed green salad or cucumber and tomato salad.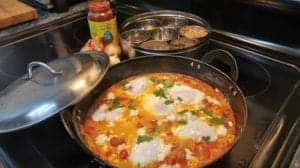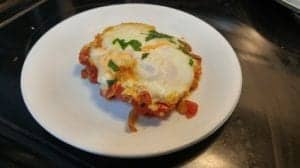 Another favourite on the weekend is Vanilla Bean Pancakes – which one of my young adult sons loves to smother in butter (too much butter for me!). That day, he had poached eggs on the side and a mixed green salad with pumpkin seeds and pomegranate arils on top, drizzled with cold-pressed olive oil.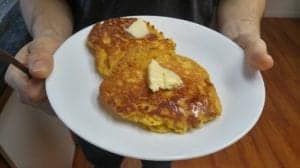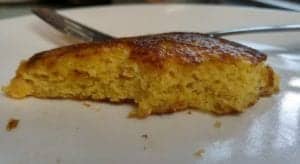 This is one of my favourite breakfast or brunch salads: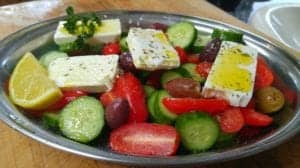 Below is a totally decadent plate that I made this past Sunday from the other half of my rib steak that I cooked the night previously (way too much meat for me!!), that I sliced thinly and warmed with stir fried asparagus, roasted peppers (also from the previous night's supper) and a few thin slices of melted brie on top. This was shared between two for brunch, and served along with a mixed green salad.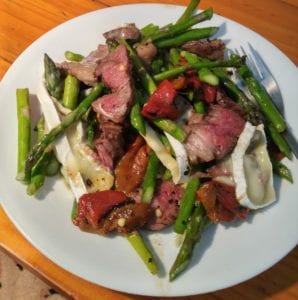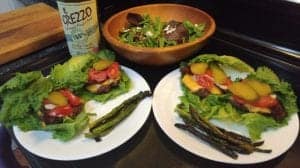 Here's how we eat "burgers" for dinner.
…and a close up of one of my son's plates: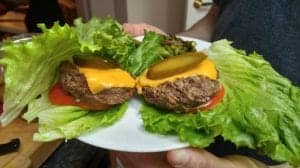 The burgers look bigger than they are, because they are served on a smaller diameter "lunch" plate, rather than a "dinner" plate. The burgers in this case were served with a large mixed green salad, with a few raspberries on top, a light sprinkling of roasted pumpkin seeds along with a drizzle of cold- pressed olive oil.
Below is one of my son's plates of lamb souvlaki that I also made this past weekend, and served with homemade tzatiki, grilled asparagus and a small Greek salad on the side (my plate had less lamb and a smaller piece of feta and more asparagus – again, because my nutritional needs are different).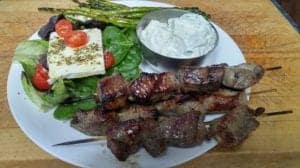 …and finally, this is a popular weekend Middle Eastern style brunch in warmer weather: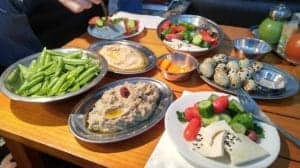 Want "noodles"? Sure!  See the "Recipe" tab for details.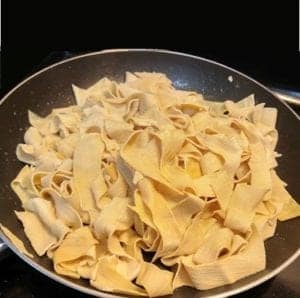 These can be cut (or bought pre-cut) in thinner slices like linguine and are wonderful topped with spaghetti sauce or pesto.
Eating low carb or keto need not involve this much cooking, either! One can make a simple piece of grilled, broiled or pan-fried fish or chicken, some cooked veggies in the microwave and/or a salad.  I happen to enjoy cooking (and my sons enjoy eating!) so this is something I do to relax.
Whether the meals are simple with little cooking required or elaborate, there is nothing "restrictive" about eating low carb.
As for eating this way being "imbalanced", someone would be hard-pressed to demonstrate that eating this way doesn't provide adequate nutrients. There is cheese and other dairy, nuts, seeds, fruit, vegetables and a wide variety of meat, fish and poultry. The diet provides all essential amino acids, essential fatty acids and ample vitamin and minerals – certainly no less than the average Canadian diet provides!
As for eating this way being "not sustainable", what is not sustainable about eating fresh, healthy, whole foods that can be eaten with a minimum of preparation or as elaborate as one's imagination allows?
I know of people that have been eating this way for 15 or 20 years and I personally have been eating this way for just over a year now (see "A Dietitian's Journey" tab) and there is nothing that I miss!
If I want something, I make it!
When it was blustery out, I wanted to make "Shepherd's Pie", so I made it, substituting cut up green and waxed beans with cubed carrot for the usual vegetable medley and topping with mashed cauliflower, instead of mashed potato.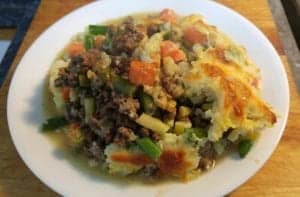 Another time, I felt like lasagna so I made it with thinly sliced Chinese eggplant in place of pasta and it was delicious!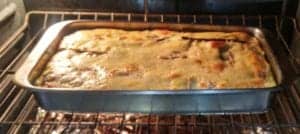 Oh and bread? No worries!
One of my son's wanted a "grilled cheese" and so I made him this.
What if you want a kaiser bun for a sandwich, or a hamburger bun? No problem (see "Recipes" tab).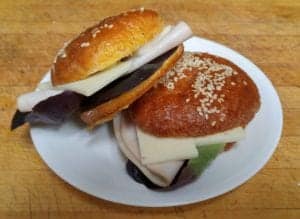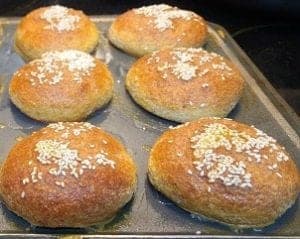 Crispy, yeasty pizza? Sure! Yes, the full recipe is available on the "Recipe" tab.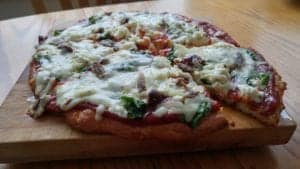 While "keto pizza" is higher fat than I personally would ordinarily eat as an 'everyday food' (because I follow the third type of low carb style of eating and am still in the weight loss phase), if I really wanted a pizza, I'd make it! I can plan for it ahead of time or adjust my eating for a little while afterwards to compensate, but eating this way does NOT involve food restriction.  It does require making some adaptation to prepare it differently, but there are plenty of websites geared to supporting those following a low carb lifestyle that have wonderful recipes.
I hope this post encouraged you that following a low carb or keto lifestyle is entirely doable, provides adequate essential nutrients from a wide variety of food categories. It is certainly not restrictive or nutritionally imbalanced and can be sustained for as long as someone desires to eat this way.
Want to get started, but need some help designing a Meal Plan just for you? I'd be glad to help.
Whether you live here in the Lower Mainland or live far away, the identical services and prices are available in-person or via Distance Consultation.
Have questions?
Please send me a note using the "Contact Me" form and I'll reply as soon as possible.
To our good health!
Joy
You can follow me at:
 https://twitter.com/lchfRD
  https://www.facebook.com/lchfRD/
---
Copyright ©2018 The LCHF-Dietitian (a division of BetterByDesign Nutrition Ltd.) 
LEGAL NOTICE: The contents of this blog, including text, images and cited statistics as well as all other material contained here (the "content") are for information purposes only.  The content is not intended to be a substitute for professional advice, medical diagnosis and/or treatment and is not suitable for self-administration without the knowledge of your physician and regular monitoring by your physician. Do not disregard medical advice and always consult your physician with any questions you may have regarding a medical condition or before implementing anything  you have read or heard in our content.