This souffle recipe is posted as a courtesy to those following a variety of low-carb and ketogenic diets (not necessarily Meal Plans designed by me). This recipe may or may not be appropriate for you.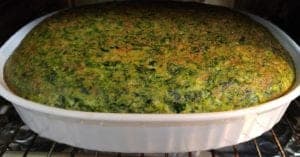 When I was in my early teens, one of my favourite convenience foods was Stouffer's® Spinach Souffle. I'm unsure whether it was discontinued or may still be available in eastern Canada, but it's not in stores in Vancouver.
Stouffer's® web page lists the ingredients in their Spinach Souffle as spinach, skim milk, eggs, water, soybean oil, modified tapioca starch, 2% or less bleached wheat flour, sugar, salt, and spice.
My keto version of Spinach Souffle uses spinach, whole eggs and egg whites, heavy cream, a touch of Parmesan, freshly ground salt and pepper and that's it!  There are no industrial seed oils, no flour and no sugar.
Here's my recipe. It is delicious as a vegetarian main course along with a spring green salad, or as a side dish to your favourite main.
Enjoy!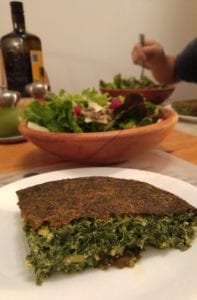 Ingredients
6 large eggs
4 egg whites
2 cups (500 ml) heavy whipping cream
1/2 cup (50 g) Parmesan cheese, grated
2 x 300 g frozen chopped spinach (total 3 cups), defrosted and squeezed dry
Instructions
Preheat convection oven with fan on to 400 °F (204 °C).
Grease the sides and the bottom of an oval Pyrex dish with butter (or use non-stick spray)
In a deep bowl, crack the eggs and beat well with a fork, then add the egg whites, and beat some more. Add the heavy whipping cream and mix well.
Squeeze the defrosted spinach well until it is as dry as possible, then add it to the bowl with the eggs, cream and Parmesan*. Season well with freshly ground salt and pepper.
When the oven is preheated, fill the Pyrex dish with the egg mixture and bake at 400 °F (204 °C) for one hour (or until nicely browned and well risen.
* for those sensitive to oxalates, blanching the spinach in boiling water and then shocking it in an ice bath before squeezing it dry will significantly lower the oxalate content. A 2005 study found that boiling high oxalate vegetables can reduce oxalates by as much as 87% (J. Agric. Food Chem. 2005, 53, 8, 3027-3030, https://doi.org/10.1021/jf048128d)
Serve and enjoy!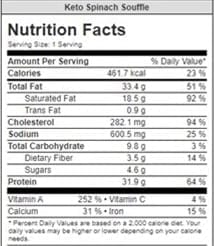 If you would like more information about the services I provide please have a look under the Services tab. If you have questions, please feel free to send me a note using the Contact Me form above, and I will reply as soon as I can.
You can follow me on:
Twitter: https://twitter.com/lchfRD
Facebook: https://www.facebook.com/lchfRD/
Instagram: https://www.instagram.com/lchf_rd
Fipboard: http://flip.it/ynX-aq
Copyright ©2019 LCHF-RD (a division of BetterByDesign Nutrition Ltd.)